Doctors
---
Dr. Gretchen Ruby DVM
Left to right: Dr. Ruby, Dr. Saubier, Angela
Dr. Gretchen Ruby is a native of Harford County, Maryland. She graduated with honors in Animal Science and Biology at Virginia Tech in Blacksburg, Virginia. She proceeded to veterinary school at The Virginia- Maryland Regional College of Veterinary Medicine where she achieved her Doctorate of Veterinary Medicine degree in 1991. Upon graduation Dr. Ruby returned to Aberdeen, Maryland where she was a dedicated small animal practitioner for seven years. During this time she meet her husband Mark. To afford more time with her children Dr Ruby began working in veterinary emergency medicine in 1998. This is when she realized that her true passion was emergency and critical care medicine. Dr. Ruby has continued to work in this field of veterinary medicine for over twenty years. Dr. Ruby loves the outdoors. In her spare time she enjoys spending time with her family camping, horseback riding, scuba diving, and gardening.
---
---
Dr. Wendy Saubier DVM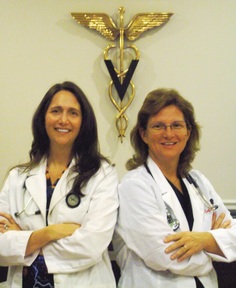 Dr. Saubier started her undergraduate studies at Denison University in Granville, Ohio graduating with a Bachelors in Arts. She then moved to Hawaii where she began pursuing her second Bachelor's degree at the University of Hawaii at Manoa. She completed this degree at the University of Delaware where she graduated summa cum laude with a Bachelors in Science. Following graduation, she moved on to her Doctorate in Veterinary Medicine at Ross University, where she graduated with High Honors. After completing her final year of clinical studies at North Carolina State, she moved to upstate New York where she began working as a general practitioner. When she returned home to Maryland, she elected to pursue alternate work and found herself at a 24-hour emergency and critical care facility where she knew she had found her niche.

Born and raised in Maryland, Dr. Saubier has always had a love for the Chesapeake Bay. She and her husband enjoy spending time on the water with their two children. She enjoys spending time with her German Shorthair Pointer "Big Mike". Her three cats "Sofia", "Gypsy" and "Pepper" provide endless entertainment and are constantly getting into trouble. Her other hobbies include gardening and photography
---
---
Dr. Kathleen King DVM
Dr. Katie King studied biology at the University of Notre Dame. Following graduation, she then went on to complete her DVM at Virginia Tech. She became passionate about veterinary medicine soon after graduation.

Dr. King enjoys spending time with her children and family, which includes her chihuahua mix, Rico. She also enjoys cross-fit.


---
---
Dr. Cynthia Willer DVM

​Dr. Willer graduated with bachelors of science in Animal Science at the University of Delaware. She went to NCSU veterinary school of medicine for her veterinary degree. After graduating veterinary school, she completed a internship in small animal medicine and surgery at Rowley Memorial Animal Hospital in Springfield, MA. It was there that she discover her passion for emergency medicine, and she has been an emergency veterinarian since that moment. In 2013 Dr. Willer decided to join the team at Animal Emergency Hospital.

Her hobbies are spending time with family, friends, and cat "Heinz", as well as reading, outdoor activities and baking.
---
---
Dr. Megan Alayon
Dr. Megan Alayon is an associate veterinarian from Miami, Florida. She moved to Bel Air, MD along with her 5-year-old rescue dog Simba after receiving her DVM from the Virginia-Maryland College of Veterinary Medicine in Blacksburg, VA. While living in Florida, she attended the University of Miami earning a B.S. degree in Biology. Through high school and college she worked at a local veterinary clinic gaining experience and a vested interest in helping animals. Dr. Alayon hopes to further her bond with animals and their owners through the practice of veterinary medicine.

In her spare time Dr. Alayon likes to travel, play tennis and of course spend time with her dog, Simba. Although new to the area, she has grown very fond of the Bel Air area and other parts of Maryland as well. She enjoys taking trips out to Deep Creek Lake where she loves to spend time on the lake, hike and snowboard when winter hits. She is a big Miami Hurricanes football fan and is a newly found Ravens fan.


---
Dr. Alicia Sorum DVM
Dr. Alicia Sorum grew up in southern PA, and graduated with a bachelor's of science in Animal Bioscience from Penn State University in 2003. She spent 2 years working as a neonatal foal nurse at Mid-Atlantic Equine Medical Center in NJ, then moved to Washington DC to work in the department of lab animal medicine at Covance Laboratories. While there, she decided to apply to veterinary school and devote her life to caring for animals.
Dr. Sorum graduated with highest honors from Ross University in 2009, after a clinical year spent at the University of Minnesota.
After spending 7 years working as a private racetrack veterinarian, she moved to Harford County and started a solo ambulatory equine practice. She has three beautiful children, and enjoys running and riding horses in her free time.
---
---
Dr. Alexandra Kalwa DVM
​Dr. Alexandra Kalwa is an associate veterinarian at Animal Emergency Hospital and is local to Harford County, Maryland. Dr. Kalwa graduated from Towson University with a Bachelor degree in Biology. She obtained her DVM at the Virginia-Maryland Regional College of Veterinary Medicine. Dr. Kalwa has pursued her dream to help the lives of both animals and their owners through the practice of veterinary medicine.

Dr. Kalwa enjoys time with her family and friends. She loves spending time spoiling her cats Milo, Midge and Mowglii. They provide endless love and amusement. She also enjoys skiing and mountain biking in her free time.
---
---
Dr. Jennifer Goessling DVM
| | |
| --- | --- |
| | ​​Dr. Goessling graduated from the University of Illinois College of Veterinary Medicine in 2009. She moved to Baltimore the following year and spent 5 years working in general practice before transitioning to (and getting hooked on) ER medicine. In her free time, she enjoys baking, reading, and spending time outdoors with her husband and their pets. She became the managing veterinarian at Animal Emergency Hospital in April 2020 and looks forward to mentoring new graduates and other doctors transitioning to ER |